510 Surfskis – The Boat Made for You!
New Boats in Green and Blue ARE HERE!!
Surfski performance at a family friendly price.
The Nelo 510 Surfski is a high-performance, durable surfski designed for paddlers of all skill levels. The 510 is made of polyethylene and is 16'8″ long, 21.6″ wide, and weighs 48.8 lbs. The 510 is stable and easy to paddle, making it a great choice for beginners. It is also a fast and efficient poly boat with a great paddling angle, making it a good option for experienced paddlers in situations unfriendly to carbon hulls. Read more about the Nelo 510 Surfski.
The 510 follows the great lines of the 520 in an extra stable and durable boat.
The 510 comes with a variety of features, including a comfortable cockpit, integrated cockpit handles, and a stern storage hatch. There are multiple options for upgrading hatches and rudders. The 510 is a great choice for paddlers who want a versatile and durable surfski.
510 is an ideal entry boat for athletes that want to start paddling, easy to handle, durable, and stable. Accommodates children to adults and it allows a progression right up to the top skills leve. Experienced paddlers use a 510 in conditions that put their carbon hulls at risk, maybe rocky, icy or low water levels.
Get all the great features of a poly surfski at a competitive price! The design of the 510 is in line with all the Nelo surfskis which means a nimble ski with a responsive feel.

Rudder Options
The Nelo 510 standard rudder is a plastic, durable component. If you're planning to use the ski in conditions that are not rudder friendly then purchase an upgrade to the Kick Up rudder.
Standard Plastic Rudder
Purchase Kick Up/Retractable Rudder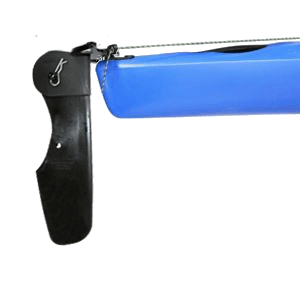 Surfski Comparisons – All the Nelo Models
Nelo is an innovator in the surfski world! Nelo is always bringing something new to the surfski world from hull design to new construction techniques. Nelo has a full complement of skis, from recreational to elite, and state of the art construction in their factory in Portugal. For info on Surfski Paddle options.
Read more about each model : 510 | 520 | 540 | 550 | Vanquish | 560