Surfski Paddles from BRAČA-SPORT®
Surfski paddles from BRAČA-SPORT® are designed to take on all water conditions, not just ocean surf! Our surfski paddles are reinforced in areas subjected to more stress by current, surf, and bracing, which also makes them perfect for turbulent flat water. Braca is the only company engineering paddles using our own proprietary carbon fiber and state-of-the-art construction. Because we manufacture our own carbon fiber, for both blades and shafts, we can dial in performance and function for every surfski paddle we build. Check out our surfski wing paddles and configure your custom paddle today.
Surfski Paddles In Stock
You can buy these paddles directly online. Select your paddle type and select the surfski blade from the available blade options. Surfski paddles are usually paired with 19K or 21K Shafts, a slightly more flex configuration than stiffer sprint paddles. Select your custom paddle length with 10cm of adjustment.
Our top-selling surfski options are: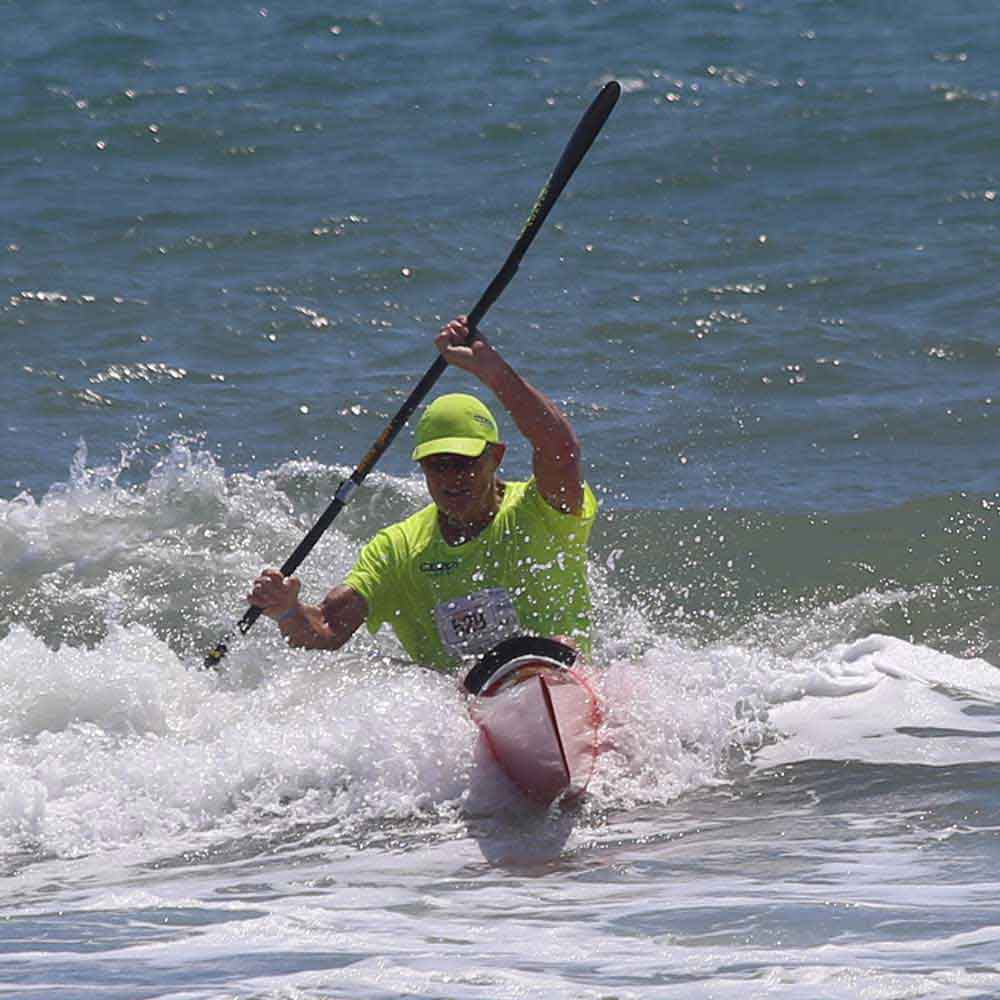 SURFSKI BLADES
Braca blades are available in Surfski, Extra Light, Marathon, Standard. Surfski blades have a special reinforcement in the most stressed areas, which makes them suitable for paddling in all sorts of water conditions. These blades withstand reverse forces when stabilizing or paddling backward.
Specially reinforced design
Large selection of blade sizes
Engineered with Braca's own carbon fiber
SHAFTS DESIGNED FOR SURFSKI
Surfski paddles are configured with shafts in several options, 19K, 21K, and Matte 21K (limited availability) for Matte blades only. Surf ski paddling requires a softer but more durable shaft, which has to be light at the same time. Braca developed the 19K and 21K shafts, especially for this purpose. Braca shafts are unique in the sport, custom manufactured and then assembled to your specific specs.
10 cm of adjustability to dial in your perfect custom paddle length
Softer shafts for all types of conditions and athlete preferences, such as injury prevention
All 19K, 21K paddle shafts have lightweight plastic connectors that are more durable in saltwater
Surfski Accessories
BRACA SURFSKI ACCESSORIES
Braca accessories are expertly designed to protect you and your equipment. Our pogies are available in two styles, intended for cool (over 40 degrees) weather, and designed for ease of use while racing and training. Their easy on/off styling also accommodates gloves for extra warmth. The best kayak pogies for the first signs of cold weather!