BRAČA-SPORT®  Kayak Paddles
All Braca Kayak Paddle Models are Available at FastPaddler!
BRAČA-SPORT®'s mission is to design, develop, and produce the best performing paddle for every paddler. We believe that each paddler has different needs and therefore each paddle should be uniquely designed. Different designs work better for different paddlers and environments. We offer a wide range of sizes, shaft configurations, and materials for every kayak paddle we build. We want you to be able to select your ideal kayak paddle!
You can select your ideal paddle as FastPaddler has a large selection of inventory to meet popular and unique choices.
Your paddle will be professionally assembled and rapidly shipped!
CARBON PADDLE TECH AND OPTIONS
New in Kayak Paddles
Explore our new paddle options and constructions in stock at FastPaddler. Braca + FastPaddler guarantees quality and customization, with a ready supply of every paddle model and the latest advancements. Order online for swift delivery of your paddle!
IV
New Blades Sizes - 720 and 750
XI
New Blade Size - 720 | Downriver Metal Tip Blades for 705, 735, 760
Shafts
19K Flexible Shafts with metal lockers
BRAČA-SPORT® Kayak Paddles
Interested in Canoe, SUP, Dragon? Go to our paddle shop for all sports
Blade Constructions
Standard
Our regular 100% carbon construction paddle
Extra Light
A lighter, stiffer version approx 20 to 100 g lighter than standard
Marathon
Kevlar tips for durability for rugged conditions
Surfski
Reinforced for reverse forces of bracing and current in all waters
Soft
A softer, more forgiving performance blade
Carbon 60
Durable, slightly heavier softer blade at a lower price
Down River
Edge of the blade is reinforced with metal for severe conditions
Which Kayak Paddles Are Most Popular?
The Braca XI and the Braca IV – Carbon Wing Paddles!
The Braca XI (11) and Braca IV (4) stand out as our most popular carbon kayak paddles. The XI boasts a high-twist teardrop design, perfected in the USA by Ted Van Dusen, and has been rapidly gaining traction among top competitors. Widely favored by athletes across the board, the Braca XI remains a top choice.
The Braca IV or I (same design, larger blades) represents the original wing paddle design by Braca, enjoying significant popularity in the USA. The paddle is designed to facilitate the application of power in the catch through the middle of the stroke, leading to an efficient and powerful forward stroke.
For competitive sprinters, the Braca VII or VI (same design, larger blades) presents yet another compelling option. Successful elite athletes worldwide have achieved acclaim using each of these kayak paddle designs.
Our extensive stock includes a diverse array of configurations, ensuring we can cater to every type of athlete. You have the flexibility to choose the blade design, size, construction, and shaft for your paddle. This versatility positions BRACA-SPORT as the market leader. Your optimal paddle is just a few days away!
All blades and shafts made at Braca's own factory in Lithuania. Over 30 years experience!
The Braca XI wing blade shape was originally designed by Ted Van Dusen in 1992 after three years of development and testing. Due to the high demand, BRACA-SPORT® added this specially shaped blade to the product line by purchasing a license from Ted in 2014. The XI is considered an extreme twist shape which facilitates a strong catch and clean exit. Many paddles on the market have emulated this shape, but if you have not tried an original Van Dusen design you really should. The power curve for the Braca XI is impressive!
Constructions:
The XI is available in many constructions Regular (R), Extra Light (XL), Surfski (SS), Marathon (M), Down River (DR).


Blade Size:

The XI blade sizes cover the entire range of athlete sizes – 675 to 835 (contact us for 835). There is an 805 coming soon.


Shafts:

Can be paired with any Braca shaft.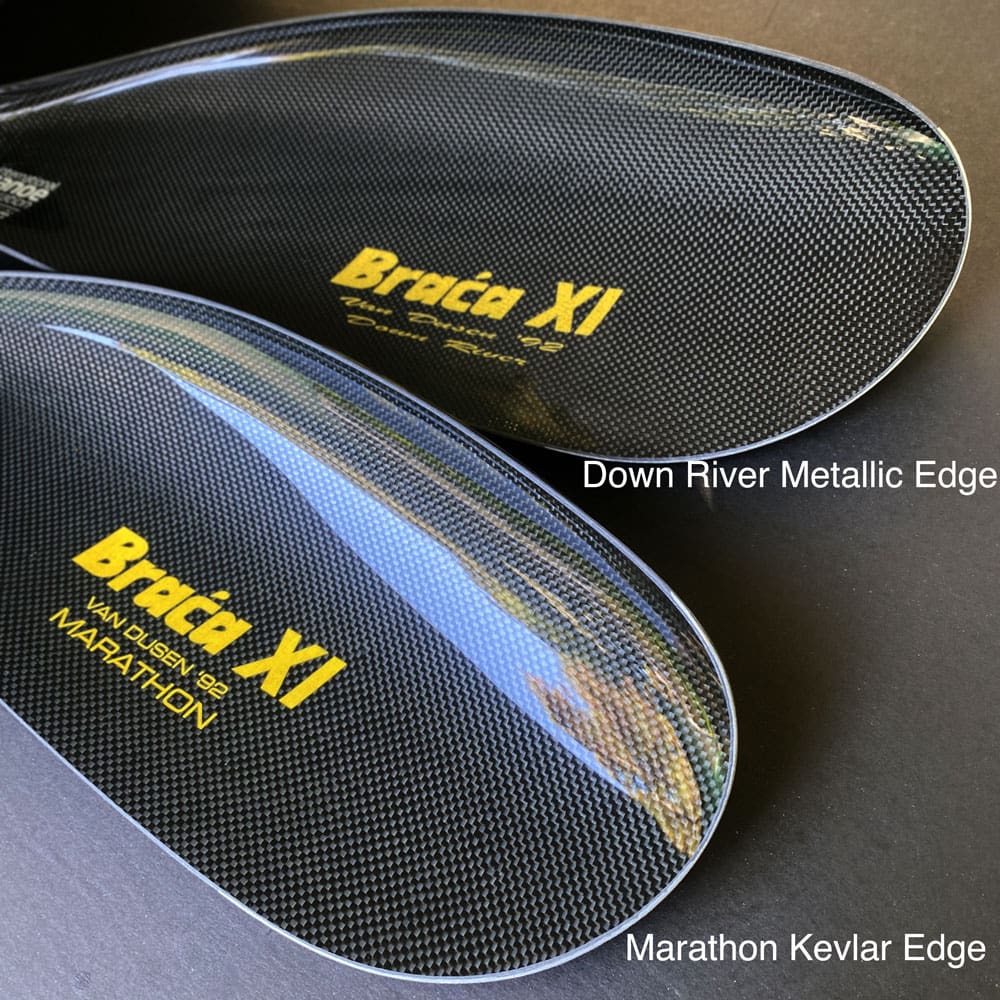 About Braca IV
Designed to facilitate the application of power in the catch and in the middle of the stroke, enabling the "ultimate" forward stroke. The original tear-drop carbon wing paddle. Also in larger sizes for ICF K1 kayak sprint athletes as Braca I
.
The Braca IV has been one of BRAČA-SPORT's most popular paddles for all types of paddling: One of the most popular sprinter kayak paddles, used in Olympic Sprints, World Marathon Championships, and Surfski events. The IV is a classic carbon wing paddle design, the original teardrop design! Athletes like the easy placement at the catch and the power delivery across the stroke. Larger sized ICF Sprint paddles in the same shape are available as the Braca I for most powerful athletes primarily competing in sprint.
Constructions:
The IV is available in all constructions Regular, Extra Light, Surfski, Carbon 60, Soft, Marathon, Down River (soon).


Blade Sizes:

The IV blade sizes cover the range of athlete from small to large – 610 to 765, largest athletes use the Braca I – 775 to 820.


Shafts:

IV can be paired with any Braca shaft.
Braca Kayak Shaft Options
Our shafts stand out uniquely in the industry. Braca shafts are meticulously crafted for top-tier performance in every sport. With 30 years of expertise in manufacturing shafts at the Braca factory, we take pride in delivering unparalleled quality.
Braca-Sport offers a range of shaft options with different characteristics to suit the needs of various paddlers. Designed for Olympic and World events, Braca shafts cover the needs from short sprint to marathon and surfski. Typically, if you're a robust sprint paddler who engages in racing and wields a larger paddle, opting for a stiffer shaft, such as 17K or stiffer (17, 06, 04, 03, 02), is advisable. A stiffer shaft is particularly suitable for shorter distances as well. For paddlers who are not sprint racers, the 17K, 19K, 21K are a fit. The 19K is a excellent all-around shaft for flatwater or ocean and is aimed at anyone looking for a more flexible, lightweight 100% carbon shaft.
The stiffness of the shaft can impact the paddle's performance. Some paddlers prefer a stiffer shaft for maximum power and efficiency, while others may prefer a bit more flexibility for distance and comfort.
The majority of USA paddlers use 17K or 19K or 21K
Our most popular configuration is the 19K for medium and long distances, marathon, surfski, fitness training.
Sprinters tend to use 17K or stiffer shafts for flatwater short races.
Youth paddles have specifically designed shafts with more flexible construction of carbon/fiberglass.
Some athletes use a softer shaft for surfski than flatwater if they have multiple paddles.
Stiff, well-made blades (Braca!) and then shafts to accommodate needed flexibility is preferred setup
Customization of your blade design, blade size, shaft, and paddle length is unique in the industry!
Least Flexible
02K: Stiffness = 2.6 Sprinter Shaft
03K: Stiffness = 2.8 Sprinter Shaft
04K: Stiffness = 3.0 Sprinter Shaft
06K: Stiffness = 3.1 Sprint, Flatwater Fitness, Mild Ocean
17K: Stiffness = 3.3 Sprint, Marathon, Flatwater Fitness, Mild Ocean
19K: Stiffness = 4.5 Sprint, Marathon, Flatwater Fitness, Surfski
21K: Stiffness = 6.2 Flatwater Fitness, Surfski – Smaller 28mm diameter
Most Flexible

Other Factors for Shaft Selection
Varied Water Conditions
When paddling in different water conditions, like the ocean or river, where you might need to speed up to catch waves, stabilize yourself (bracing), or navigate through moving water, it's essential to choose the right paddle shaft. The softest shafts, 21K and 19K, are specifically made for these unpredictable conditions, but you can also consider using a 17K. It's important to note that the 19K and 21K shafts come with plastic connectors, while all other shafts have metal connectors that are susceptible to salt water. If you're using a paddle with metal connectors, make sure to disassemble and rinse them after each use, especially if you've been paddling in saltwater.
Injury Prevention or Accommodation
For paddlers wanting to take it easy on their joints and reduce the risk of injury then the more flexible shafts are indicated. Both the older and younger folks can benefit from using more flexible setups to reduce stress and add shock absorption. This shift helps the shaft absorb more of the stress and shock, taking some of the load off your joints. You might lose a tiny bit of power, but it's hardly noticeable unless you're a top-tier paddler doing short sprints.

Youth paddles have their own flexible shafts to protect young joints

. The sprinter shafts feel very different from more flexible, you'll feel it!
Engineering Carbon Kayak Paddles, Wing Paddles and Euro Paddles
We are the only manufacturer to engineer and produce both carbon fabrics and paddles from our own materials. This provides us the ability to produce very specific and fine grain unidirectional high modulus carbon (HMC) fabric layers in contrast to what is available in the market. The diverse range of specific and fine grain materials is the key improvement enabler of the paddle's performance characteristics. Our shafts are engineered and manufactured by us specifically for kayak performance, they are not common industrial components. This is especially important for sprinter kayak paddles and other competitors.
Real Customization means athletes select blade design, blade size, blade construction, shaft stiffness, shaft adjustability, connector, truly custom!
Together with proprietary multi-layer and multi-characteristic lay-up methods of a proprietary blend of composite fibers and a reinforced proprietary UV epoxy resin provides the ultimate mechanical and kinetic capabilities. This enables desired catch, slip, pull-through, flutter, and acceleration of the paddle and guarantees these characteristics for every paddle produced. This engineering effort leads to the world-renowned mechanical energy "BRAČA-SPORT®" paddle!
BRAČA-SPORT® was the first to develop and produce carbon kayak paddles specifically designed for children and youth. Our proprietary material characteristics and mechanics of the paddle are specifically designed to fit children's physiology. It enables equipment to absorb the impact from each paddle stroke, therefore reducing shock on the shoulders, elbows, and wrists and ultimately decreasing common kayak injuries. The above technology methods are also used to design and develop paddles for recreational and senior paddlers.