The Best Kayaking Equipment for Lightweight Paddlers
If you're a smaller sized, lightweight performance kayaker, you know that finding the right equipment can be a challenge. That's why we've put together these options for the best lightweight kayaking equipment in our store.
Equipment for smaller size, younger, or leaner Kayakers
Lighweight paddlers may be youth, smaller adults or leaner athletes. Our paddles and kayaks are made of high-quality carbon fiber, which makes them both lightweight and durable. But we also offer an incredibly wide array of sizing in both paddles, kayaks, and PFD's to accomodate all sizes of athletes.
Lightweight Kayak Paddles
One of the most important pieces of equipment for any kayaker is a good paddle. And for lightweight kayakers, it's even more important to find a paddle that's lightweight and easy to maneuver. FastPaddler has a lot of choices for the lighter athlete or the mid-size marathon athlete. We have options for size, construction, and design that all suit your needs.
Sprint paddles in smaller size
Braca-sport offers sprint paddles in a range of blade sizes so that lighter athletes can also take advantage of Braca-sport high-performance blades. Both the Braca IV and Braca XI have multiple options in smaller blades sizes, it's not just one small size for all. The Braca IV is available in 610, 635, 670 giving you three choices in smaller blades.
Lightweight surfski paddles
All of our most popular surfski blades, Braca XI, Braca IV, are available in the surfski configuration in smaller sizes. Most paddlers use a smaller blade in ocean settings so we are seeing a lot of use of 675 size blades for the ocean, marathon and other settings.
Paddles for young athletes
We like to pair young athletes with the correct paddle size so they can learn their sport in the best way. Younger, smaller athletes with correctly sized blades avoid injuries and adaptations, such as slower cadence, that come with using too large a blade. For young athletes, either the smallest 100% carbon (Braca IV or Braca XI) or the Braca IV Carbon 60 (60% carbon) paddles work great. The Braca IV 60% carbon blade is a great choice for young athletes. The IV 60 blades range in size from 610 to 735 cm2, serving both smaller and average-size paddlers who prefer this more flexible and less expensive option.
Youth paddle models
Braca has the Braca Children (scaled version of Braca IV) and Braca Kid (parallel design) paddles that are designed specifically for youth paddlers. Available in several smaller proportioned sizes. These paddles are also used by some adult marathon paddlers.
Kayaks for Lighter Weight Paddlers
Surfski sizes
If you're looking for a lightweight surfski, check out the Nelo ML Surfski. The Nelo surfski ML is a lightweight surfski with a hull design for paddlers who weigh below about 170 pounds. It is a good choice for smaller, leaner paddlers who find typical surfski buckets too large. The footplate is a bit closer than in the other sizes, Nelo buckets tend to run long, so that's a great feature for people with a shorter inseam. The Nelo ML surfski has a smaller hull size, less volume, than the L and XXL, so it floats a lighter weight person perfectly.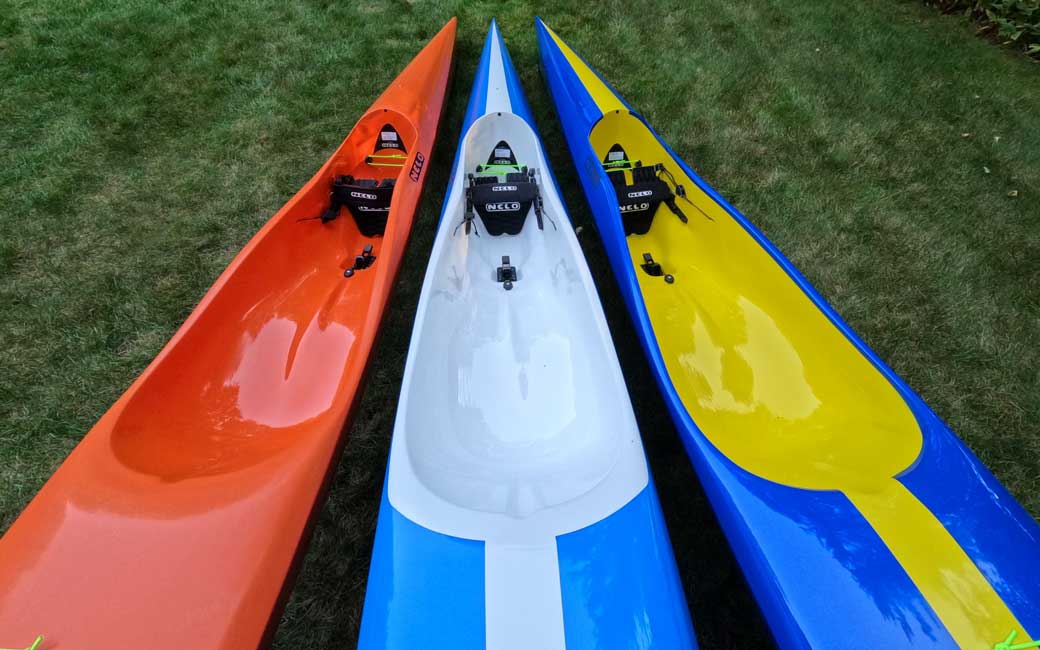 Kayak K1 and Fitness Sizes
All Nelo racing kayaks and fitness kayaks are available in multiple sizes which means you can find your ideal fit for best performance. In addition to the different sizes, Nelo also offers a variety of different materials for their K1 boats. Carbon fiber K1's are the lightest kayaks around and Nelo excels at building kayaks that are both light and stiff. Check out the Nelo Viper and the Nelo Sete for more information.
PFDs in Small Sizes
A personal flotation device (PFD) is another essential piece of equipment for any kayaker. And for lightweight kayakers, it's important to find a PFD that's lightweight and comfortable to wear.
Fastpaddler sells lightweight Mocke PFD's in very small sizes.
We Even Have Small Size Performance Apparel
The Braca-sport performance shirt is a fantastic addition to your gear. The shirt is one of our favorites for all sports as it is a soft, warm, breathable weave that keeps you at the perfect temperature while working out. The sizes tend to run small with a tighter fit in the torso, though quite stretchy, so there is no extra fabric interfering.
These are just a few of the best lightweight kayaking equipment options at FastPaddler from Braca-sport, Nelo and Mocke. With so many great choices available, you're sure to find the perfect gear to help you enjoy your next kayaking adventure. Contact info@FastPaddler for your lightweight kayaking needs.