Nelo 550 Surfski Review
Overview Nelo 550 Highlights
The
Nelo 550 surfski
is a lively and stable boat that covers a wide range of paddler skills and conditions. The boat has two generations, G1, and the current model G2, released in 2020. The 550 G2 has a redesigned hull, and a deeper bucket, which brings stability and speed. With Nelo's long racing history the 550 has an ideal paddling position for forward stroke and ergonomics. The 550 G2 quickly accelerates and the extra glide helps maintain speed. The hull shape and low profile are an advantage in facing current and wind. Because of the speed/stability combo, we're seeing more experienced racers use the 550 as their race boat. The agile boat gives a lively performance and leans into waves and bumps. Shorter and lighter, 550s are easy to transport and store.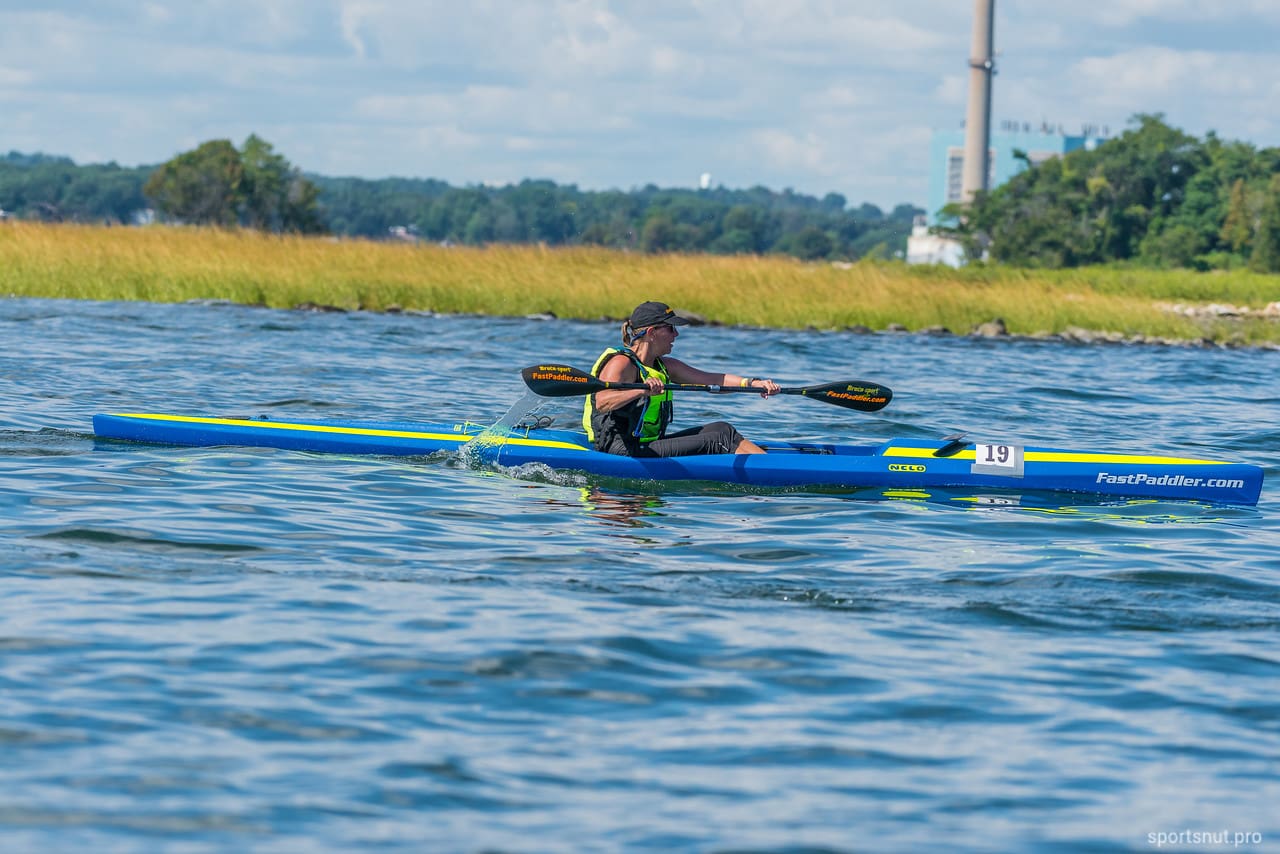 I've been using a Nelo 550 ski for 5 years for almost all races and training. I've had both WWR and SCS and both generations, G1, and G2. Since we now sell Nelo skis this review is more of an overview and is presented subjectively with all the enthusiasm that these lively boats create!
Leslie Chappell
Nelo Ergonomics and Volume Sizing
These boats are comfortable! The paddling position is based on the K1 racing position for forward stroke and is also easy on the back as your feet are well below your seat. The bucket shape in 550L G2 is generous. With no crowding from the sides or back of the bucket, I find I sit up straighter and can stay in the bucket longer. I joked if my 550 had wheels I'd drive it around town.
About Nelo Sizes
Nelo surfskis are available by size, both the boat volume (hull circumference) and bucket width increase. The guidelines really overlap depending mostly on weight and hip size for fit. The other important consideration is stability, you may be the weight size for an ML but prefer a boat with more volume for stability. The XXL is not a massive boat, it's a subtle but effective increase. My 6'5″ son paddles in a 540 XXL and I also use the same boat to take out female friends who are a foot shorter than he, much lighter, and novices. Boats do not need to be tight on you, you get your connection from the foot straps and your paddle. Also most people like to be loose in the bucket for good rotation. At 5'10" and under 160 (72kg) the L fits me perfectly for both size and volume.
ML under 75kg (165 lbs) | L 75kg – 90kg (165 lbs – 200 lbs) | XXL over 90kg (200 lbs)
When people sit in my boat the first reaction is:
This bucket is so comfortable.
The second reaction is:
This boat accelerates!
Stability and Acceleration!
Since paddling the G2 550 I've noticed my starts are faster, my overall cadence is up and my stroke is shorter. I thought it might be due to some time on the kayak erg. The erg offers less resistance so I get the feel of cranking up the cadence. Or maybe it was some technique improvements, but now I think it's got a lot to do with the boat. Everyone talks about stability and speed and it's tough to accommodate both but the 550 is stable with acceleration. It responds rapidly!
In my case, I'm more stable and the seating position favors a powerful forward stroke. I switched to the hard pullbars and they keep me balanced forward and draw my catch forward as I have a push/pull action. I can more easily prevent bumping up against the bucket back with all this forward action. These improvements combined with the quick acceleration response have resulted in a shorter stroke, higher cadence, and the ability to stay in the upper mid-range speed zone with less effort. It feels like all the axis are moved forward, it's a salty K1!
Flatwater and Ocean Racing and Training
These are the two boats I've used almost exclusively for 5 years. I've also used Epic V10 Sport, Epic V10L, Nelo 560, Nelo Viper 46, Vadja K1 Masters, Kayak Pro Jet, Stellar 18S, Mohican, even a giant Huki S1 a couple times.
For more about Surfski Paddles, how to select and purchase.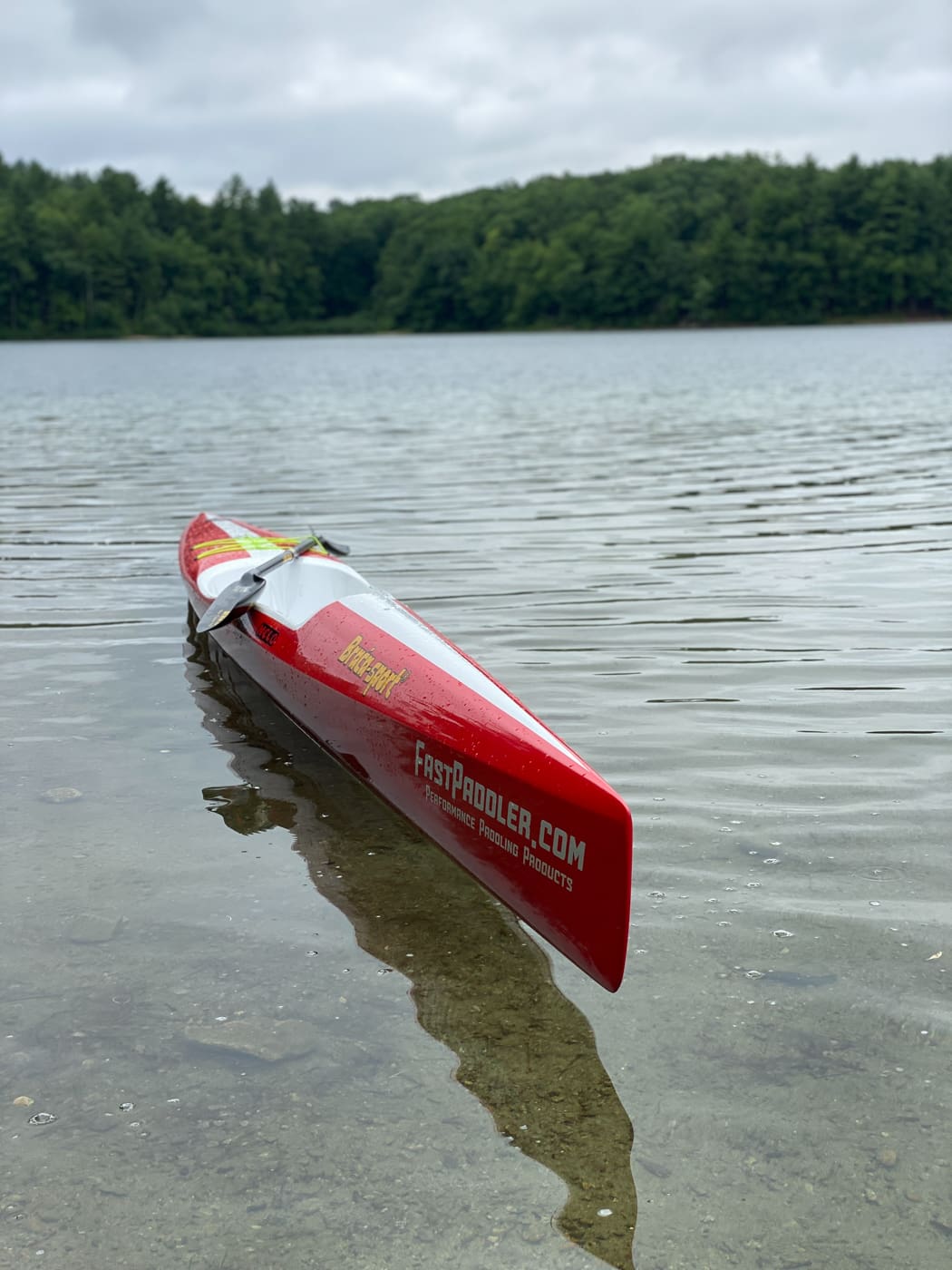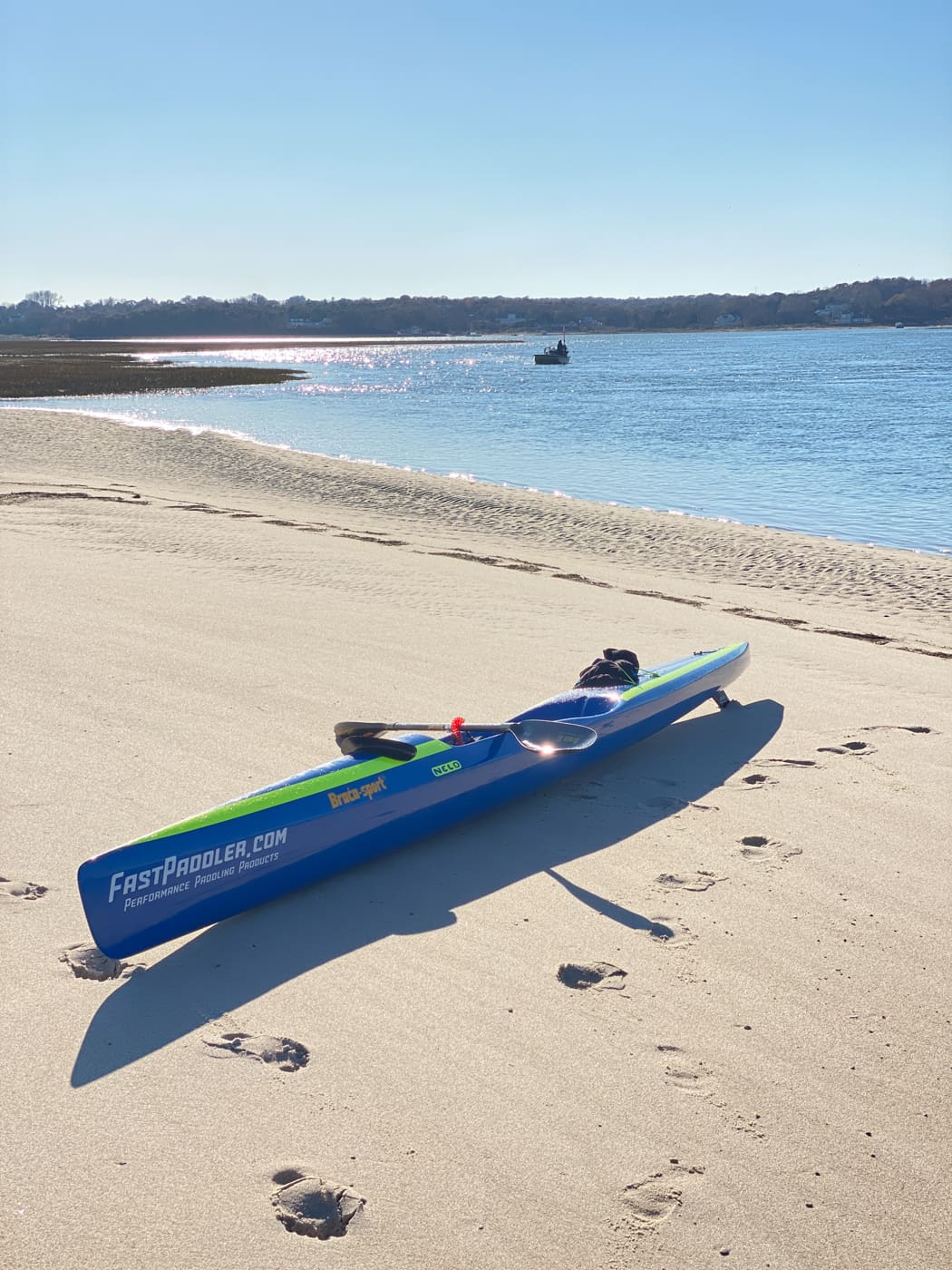 My Race Experiences with the Nelo 550 Surfski
Flatwater Race – Great Stone Dam Race
The
Great Stone Dam Race
is an 8-mile race on the Merrimac River, a broad and slow-moving river that often has some small beam chop and wind. The 550 turns on a dime and the Stone Dam has plenty of turns.  I can add a couple of boat lengths each turn so I like the extra buoys in this race. When I make the second-to-last turn it's back upstream into the wind for one more final turn, conditions that favor the low profile and glide of 550. I can just motor in the 550 under all conditions in flatwater and if anything unexpected happens I've got it covered. I've tried to use a 560 in this race but each time I relearn that stability lesson and get knocked back a bit for power. I need more time in the 560 so I can get used to the extra movement. The 560 is a rocket.
Long Ocean Race – Light House to Light House
The Lighthouse to Lighthouse is a 14-mile race in Long Island Sound. It's one of my favorite races due to its location and course, the ocean, but along sand bars and islands. At 14 miles long it's challenging for me to do the distance. I primarily paddle on a river, 8 to 10 miles, I'm a flatwater paddler no doubt. So at L2L 2017, I find myself working as a river paddler, just counting out strokes. As usual, I'm by myself and it's small choppy water with some boat swells. I think it's too small to surf, and I figure why not play around even if it cost me some time. I start catching some short rides and realize that the quick turn of the boat lets me react quickly. It starts to feel like riding a horse but the horse is leading the way. I am having a blast, mid-race, with miles to go, this boat is agile and fun. At the 2018 race, I managed to fall out while in first and still come in second.  It was a very small field of racers, but still very exciting! The boat and the race conditions are a perfect match, no boat choice anxiety with the 550, it has a broad range from flat to ocean.

Tidal Ocean Bay – Sakonnet River
The Sakonnet River is a very large open area and starts out pretty flat but gradually builds as you approach the Black Rock corner and head for the beach turnaround. After the turn, the water changes to a more ocean-like feel with deep swells breaking against the rocks. When I had the combination of a fast but tippy boat and a very stable boat the breakpoint between the two was very close to New England ocean conditions so I almost needed to bring both boats to decide on the day. At my level, as an experienced intermediate, the 550 covers a really broad range of conditions from flatwater to downwind ocean. And the grind that the Sakonnet often offers up, the tide one way and the wind another, or slack and 90 degrees, or well .. whatever it is the 550 is minimal resistance to get through the grind.
Chris L: So have there been any racing or training situations that you thought the shorter ski might be at a disadvantage, where you wondered if a longer ski might have been an advantage?
Oscar C:  Nope.  I really have never felt I was at a disadvantage in my shorter ski, in fact I only see advantages.  Another nice benefit of our shorter surfski design is that we have been able to make some 7.5kg surfski's.  Building such lightweight and strong skis is actually that much easier to accomplish with a shorter ski, and we all like that!
IMPROVED STABILITY
by lowering the seat and keeping the "K1" angle
Nelo 550 Hull Design Acceleration and Glide
The Gen 2 boat has been redesigned with a deeper bucket and footwell and with a reverse rocker just under the bucket midline ridge. I switch back and forth between Gen 1 and Gen 2 boats quite a bit. G1 is not an unstable boat (for an experienced intermediate) by any means but the G2 is definitely even more stable. Both have a lively rolling primary and a solid secondary. While I saw a bump up in my times when I moved to smaller, lighter skis I also notice a better ability to accelerate and then hold those upper-moderate racing speeds, that steady and fast but not all-out speed. On our river, I'll get to 6.5 to 7.0 mph downstream, upstream has both current and wind so drops down to 5.5 to 6.0 depending. My goal is to someday hit a 6.5 mph average at the end of a season on a roundtrip river run, I hit 6.2 last Fall.
IMPROVED MANEUVERABILITY
by moving the pivot point forward
Catching Waves and Turns
The G2 design moves the pivot point forward resulting in increased maneuverability. Nelo's were already quick turning but since the pivot point has been moved forward the boat turns on a dime. In any race with a few turns in it, I can add a couple of boat lengths and it's so fun to be in a race, head to head, and see that buoy coming up and lean into the turn. I always glance over at whoever is with me to see if they know what's going to happen. I use the Nelo carbon footplate (FastPaddler boats have this added option!) and prefer the carbon pull bar. I like snug-fitting foot straps with rigid padded pull bars, no extra wiggle room. Better for stability and I can push with the drive leg and pull with the recovery leg. It amps up leg drive and rotation, moves the catch forward, and gets rid of any slide toward the back of the bucket.
WEIGHT IS REDUCED
by making a stiffer, more responsive, shorter boat
Stiff Construction, Low Weight
Nelo surfski paddlers benefit from Nelo's long history of building racing K1 and C1 boats, the Nelo surfskis are beautifully made. Both 550 WWR and SCS versions are rigid due to the seamless construction and so they can also be lighter and still maintain stiffness. The shorter-length boats are lighter and easier to carry since they present less of a sail to the wind. Easy to pop it right up on a roof rack and the 550 fits in a garage.
The Nelo lineup of surf skis are the 510, 520, 540, 550, and 560. The boat number is the length in cms. The 520 is an all-around exceptionally stable ski and the 540, 550, and 560 are racing skis with increasing speed and decreasing stability. It's tempting to call the 540, 550, 560 beginner, intermediate and expert racing skis but the skill levels are much more overlapping than that. The 540 and 550 are also popular racing boats for expert racers in varying conditions. Chris has powered a 520 around Cape Ann for the 20 mile Blackburn race. The boats are available in sizes  ML, L, and XXL. The boat volumes and buckets increase slightly with the size.