Announcing New Braca IV 750 Paddle, In Stock Now.
Braca has added a new blade size to the popular Braca IV. The 750 fills the gap between 735 and 765. Available in three constructions: Regular, Marathon, and Extra Light – All in stock!
Visit Braca IV Ordering to review configurations and purchasing options.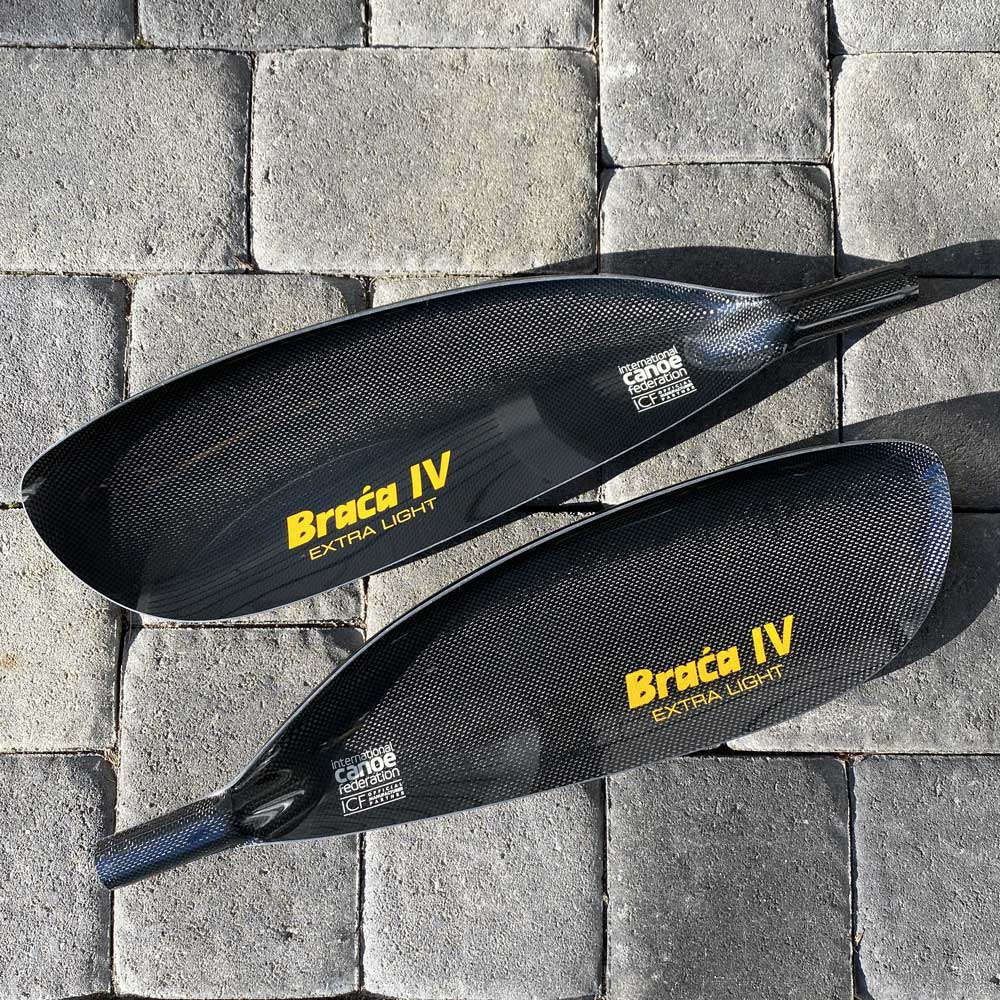 Braca IV Blade Sizes and Construction
Slide table
Braca IV Sizes
Surface Area
(cm2/in2)
Length
(cm)
Width
(cm)
Blade Construction
Standard
Extra Light
Marathon
Surfski
Soft
Carbon 60
610
610/94.5
45
14.4
–
–
–
–
–
Carbon 60
635
635/98.4
45.3
15.1
Standard
Extra Light
Marathon
Surfski
–
Carbon 60
670
670/103.9
47.5
15.2
Standard
Extra Light
Marathon
Surfski
Soft
Carbon 60
705
705/109.2
49
15.8
Standard
Extra Light
Marathon
Surfski
Soft
Carbon 60
735
735/113.9
49.5
16.3
Standard
Extra Light
Marathon
Surfski
Soft
Carbon 60
750
750/116.3
49.8
16.5
Standard
Extra Light
Marathon
Surfski
Soft
Carbon 60
765
765/118.6
50
16.8
Standard
Extra Light
Marathon
Surfski
Soft
Carbon 60
Dark solid colors are in stock and will be expertly assembled and shipped and arrive within days.
Light Italics colors can be ordered for the next shipment.
If Braca makes it you can get it!
Braca IV Shaft Options
Designed and used for many conditions and athletes' sizes, these blades can be paired with any shaft. All of these shafts are possible options for athletes depending on distance and conditions and athlete requirements. When you select a blade size and construction you will see shaft choices.
For the Braca IV 750 any of the stiffer shafts – 03K, 04K, 06K, 17K, or possibly 19K are great options. As a general rule, the larger blades are oriented to sprinting so a stiffer shaft is used.
For marathon, we recommend 19K shaft
Surfski blades are usually paired with 19K and 21K shafts but contact us for a different shaft option
19K shafts are available with metal or a durable plastic connector ideal for saltwater
21K is always a durable plastic locker and 21K shafts have a smaller diameter
04K and 06K are most popular for sprint or those wanting stiffer performance
These are the Braca IV shaft options:
Model = Stiffness (mm of deflection)
02K = 2.6 (stiffest)
03K = 2.7, 2.8
04K = 2.9, 3.0
06K = 3.1, 3.2
17K = 3.3, 3.4
19K = 4.5   (metal locker)
19K = 4.5                        
21K = 5.4 28mm dia. 
21K = 6.2 28mm dia.    (softest) 
Braca IV Shaft Length
When you order your paddle you need to enter a Custom Length and select Hand Control.
Length: You can use any 5cm or 10cm length depending on the shaft.  See the image above or more info.
How to enter the custom paddle length:
For 02K to 17K enter a 5cm range (ex: 207 – 212 cm)
For the 19K or 21K enter a 10 cm range (ex: 207 – 217 cm)
All Braca IV paddles are available with a two-piece adjustable shaft that provides 5 cm or 10 cm of adjustability. This allows flexible adjustment of the overall paddle length and blade angle from 0° to 80° right or left in 5° increments. The system also allows you to disassemble the paddle into two parts for easy transportation.
Hand Control: Select Right or Left
Hand control determines which way to orient the locker, left-handed or right-handed.
Not sure which paddle is right for you? Contact us! We welcome questions at Chris@FastPaddler.com